WELCOME COLLECTORS FROM ALL OVER THE WORLD
                          SELAMAT DATANG KOLEKTOR INDONESIA DAN ASIAN
                                                AT DR IWAN CYBERMUSEUM
                                          DI MUSEUM DUNIA MAYA DR IWAN S.
_____________________________________________________________________
SPACE UNTUK IKLAN SPONSOR
_____________________________________________________________________
*ill 001
                      *ill 001  LOGO MUSEUM DUNIA MAYA DR IWAN S.*ill 001
                                THE FIRST INDONESIAN CYBERMUSEUM
                           MUSEUM DUNIA MAYA PERTAMA DI INDONESIA
                 DALAM PROSES UNTUK MENDAPATKAN SERTIFIKAT MURI
                                        PENDIRI DAN PENEMU IDE
                                                     THE FOUNDER
                                            Dr IWAN SUWANDY, MHA
           WELCOME TO THE OLD CHINESE GAMES COLLECTIONS EXHIBITION
SHOWCASE ONE : "THE OLD CHINA OVERSEAS(TIONGHOA) OLD GAMES
FRAME 001 : " The old China chess Collection found in Indonesia"
THE  HISTORY OF CHINESE CHESS (Xiangqi)
In China, there is a game named Xiangqi (or Xiangxi), dated back to no later than the warring states period.[citation needed] It was believed to be invented in southern China. The game was described in Chu Ci and Han dynasty books.[citation needed] The first Chinese books on xiangqi strategy were written in the 5th century AD.[citation needed] In its ancient form, Xiangqi had six pieces (History of Xiangqi (Chinese)). Some believed that Indian chess was derived from xiangqi (The Origin of Chess). Some believed that xiangqi had been derived from the Indian Chaturanga.[26] This theory goes as follows: Chaturanga was transformed and assimilated into the game xiangqi where the pieces are placed on the intersection of the lines of the board rather than within the squares.[7] The object of the Chinese variation is similar to Chaturanga, i.e. to render helpless the opponent's king, sometimes known as general.[26] Chinese chess also borrows elements from the game of Go, which was played in China since at least the 6th century BC.[26] Owing to the influence of Go, Chinese chess is played on the intersections of the lines on the board, rather than in the squares.[26] Chinese chess pieces are usually flat and resemble those used in checkers, with pieces differentiated by writing their names on the flat surface.[26]
An alternative origin theory contends that chess arose from Xiangqi or a predecessor thereof, existing in China since the 2nd century BC.[27] David H. Li, a retired accountant, professor of accounting and translator of ancient Chinese texts, hypothesizes that general Han Xin drew on the earlier game of Liubo to develop an early form of Chinese chess in the winter of 204–203 BC.[27] The German chess historian Peter Banaschak, however, points out that Li's main hypothesis "is based on virtually nothing". He notes that the "Xuanguai lu," authored by the Tang Dynasty minister Niu Sengru (779–847), remains the first real source on the Chinese chess variant xianggqi, LOOK AT THE CHINESE OVERSEAS TIONGHOA INDONESIA CHESS XIANFQI BOARD below.
FRAME 002 "The old China Ho or Dam Collections found in Indonesia
FRAME 002 : "The Old China Mahjong Tiles Collection on the old China Chess board"
THE CHINESE MAHJONG GAMES HISTORY
THE OLD CHINESE OVERSEAS INDONESIA " TIONGHOA" 'S MAHJONG GAMES COLLECTIONS.
The Type Of Mahjong Tiles: 
Examples of winning hands (split into melds and pair for clarity):
Please compare the new tiles
with the old Majong Tiles below
1.The small dice
2.The lucky stick and coins
3.The mahjong tiles
(1) chinese calligraphy
 Hóng Zhōng (紅中
, red middle), Fā Cái (發財
, prosperity), and Bái Ban (白板
, white board) represent benevolence, sincerity, and filial piety, respectively
 (2) round 
(a) old
(b) new
(3) Picttorial
(4) Joker only foreign mahjong,Chinese mahjong without Joker.
(5) The tiles made from ceramic,ivory,stone,wood,and new one plastic.
Read More about Cginese Antique Games
A Pictorial History of the Game of Go
2009-04-15
[Mirrored from http://babelstone.blogspot.com/2009/04/pictorial-history-of-game-of-go.html]
For several years I have been collecting information relating to the early history of Chinese board games, which I have now decided to publish as a series of non-narrative posts over the next few weeks. I am starting with the game of Go (Chinese wéiqí 圍棋), which is perhaps not so interesting as it has already been done many times before (for example, see such sites as 中國圍棋史話, 古代围棋图片 and 围棋考古).
This page covers excavated Go boards and Go stones, as well as depictions of Go players, from the earliest times up until the end of the Yuan dynasty (i.e. up to 1368), and I will update it whenever I get any new information or better pictures. More pictures of old Go stones may be found at 中国古代围棋子演变简史 and 见证中国古代体育的围棋子.
There are a few points that are perhaps worth making.
Firstly, there is no archaeological evidence for the existence of Go prior to the Han dynasty (206 BCE – 220 CE). Han and Warring States period (476–221 BCE) tombs regularly contain Liubo 六博 boards and/or Liubo game pieces, but, despite the fact that Go stones should be more easily preserved than Liubo game equipment, no Go boards nor any certain examples of Go stones have ever been excavated from a pre-Han tomb, and only two examples of Han dynasty Go boards are known. And whilst there are scores of Han and pre-Han pictures and funerary figurines of Liubo players, there are no known depictions of Go playing until after the end of the Han dynasty. Despite this, many writers and web sites appear to show evidence that Go has been played in China for centuries or even millenia before the Han dynasty, for example pointing out examples of pre-Han pictures of Go playing or criss-cross images of Go boards on neolithic pots. But on closer inspection many of the supposed early pictures of people playing Go turn out to be depictions of people playing Liubo. And to my mind the criss-cross patterns on neolithic pots are simply decorative criss-cross patterns.
One particular example of such disinformation occurs in a set of Chinese postage stamps on the subject of ancient Chinese sports which was issued in 1986. This set of four stamps depicts what appear to be rubbings of Han dynasty picture bricks or picture stones, thus implying that each of the four sporting activities shown was the subject of artistic representation during the Han dynasty. The second stamp in this set shows two men playing Go on a (11×11 or 13×13 ?) Go board (unfortunately I only have a used copy of this particular stamp):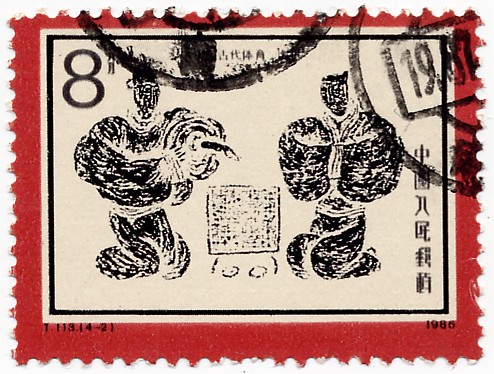 T113 (1986) "中国古代体育" (Sports of Ancient China) : Stamp 2 "围棋" (Weiqi)
[a modern fantasy in the style of a Han dynasty picture stone ?]
I have been unable to ascertain whether this and the other three images are based on actual Han dynasty stone or brick pictures or whether they are modern designs that are are merely in the style of Han stone pictures, but as I have never yet seen a Han dynasty picture of Go players I suspect that the design of the Go stamp must be a modern fantasy. There is also a 1993 Chinese stamp with a design showing ancient Go players, but this one is very similar to the picture of Go players in the Five Dynasties period mural from Yulin Cave 32 (shown further down this page), and so if it is not based on the Yulin Cave picture it must be based on some other mural from that period.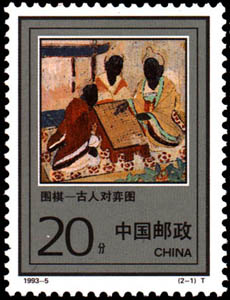 T 1993-5 (1993) "围棋" (Weiqi) : Stamp 1 "古人对弈图" (Ancients playing Go)
[design based on a Yulin Cave mural ?]
It is also tempting to see any unexplained small stones or beads that are found in tombs as examples of Go stones, but I would say that unless they are clearly divided into two colours and are approximately the right number for playing Go, or else are associated with a Go board or the decomposed remains of a Go board, then such finds should not automatically be assumed to be Go stones. On this basis I have excluded from this page a number of finds of "Go stones" that I do not believe are really Go stones.
Secondly, from the Tang through Yuan dynasties (618–1386) a surprisingly large number of excavated Go boards and paintings of Go players come from the peripheral regions of China or beyond China (Korea, Tibet, Xinjiang, and the territories of the Khitan, Tangut and Jurchen states), and relatively few examples have been found in tombs from central China, which at the very least shows that the game of Go was poular across a large geographic area and amongst many different nationalities. On the other hand the two earliest known boards both come from central China, and predate any boards from beyond China by half a millenium, and so I think that there is no reason to doubt that Go was invented in China.
Thirdly, the grid size of Go boards varies considerably. It has long been known that Go was originally played on a 17×17 grid (with 289 stones), and only developed to the now-standard 19×19 grid (with 361 stones) at later date. But not only do we find 17×17 and 19×19 boards, but we also find 13×13 and 15×15 boards, as well as very odd sizes such as 14×14 and 9×12. However, some of the boards found in tombs are miniature-sized model boards (only about 10cm. across) that have been specially made for use as funerary items, and so may not accurately reflect the grid size used on real boards.
---
Fragment of Western Han Pottery Go Board
陽陵帝陵南闕門遺址出土漢代陶質圍棋盤殘塊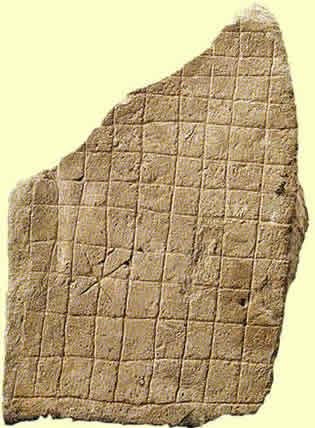 Source : 围棋考古 (2007-03-27)
Description : Fragment of a crude pottery Go board excavated during the 1990s from the site of the southern gate to the mausoleum of Emperor Jing Di 景帝 (reigned 156–141) and his consort at Yangling 陽陵 near Xianyang in Shaanxi province. Apparently this is not a purpose-made Go board, but a tile onto which a Go grid has been scratched (reportedly on both sides, but I have only seen pictures of the one side). Because of its crudeness, it has been suggested that it was used by guards at the mausoleum gate.
Date : Uncertain, as it is not associated with the main burial, but assumed to date to the Western Han period (206 BCE – 25 CE).
Size : 28.5 × 19.7 cm at the widest points.
Grid : Uncertain (fragment covers 13×10 lines). A star point is marked on the lower left corner, but no other star points are visible.
---
Eastern Han Stone Go Board
河北望都一號東漢墓出土石圍棋盤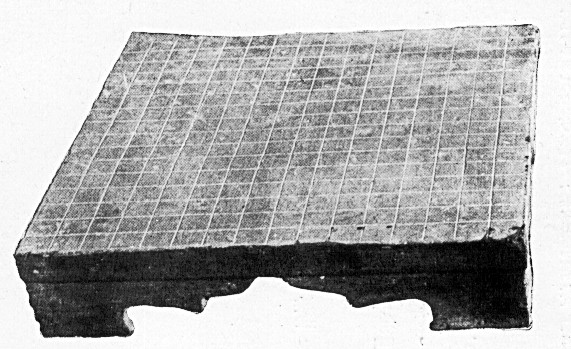 Source : Wangdu Hanmu Bihua 望都漢墓壁畫 (Beijing, 1955)
(Click on image to see the face of the board)
Description : Stone Go board excavated in 1952 from the Han dynasty tomb M1 at Wangdu 望都 in Hebei province.
Date : Late Eastern Han period (25–220).
Size : 69 × 69 cm.
Grid : 17×17, with the five primary star points marked.
---
Western Jin Go Stones
山東鄒縣西晉劉寶墓出土圍棋子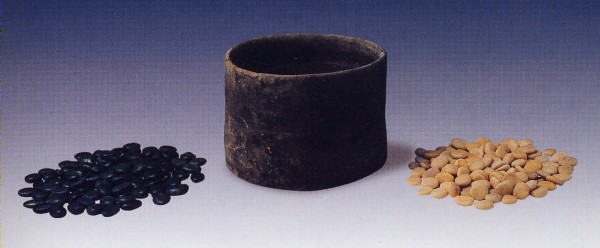 Source : Wenwu 文物 2005.1 page 9 fig.9
Description : A set of stone Go stones excavated in 1974 from the tomb of Liu Bao (died 301) near Zoucheng 鄒城 in Shandong province.
Date : Western Jin (265–317), 2nd year of the Yongkang 永康 era (301).
Stones : 232 or 289 (according to different sources) natural pebbles, half black half white, in a cylindrical pottery bowl, 12.4 cm in diameter and 9.0 cm in height.
---
Northern Qi Stone Monument depicting the Life of Buddha
北齊周榮祖造像碑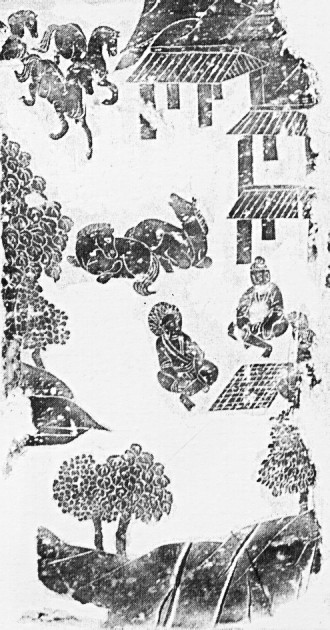 Source : Zhongguo Meishu Quanji 中國美術全集‧繪畫編 (Beijing, 1984) vol.19 plate 26
Description : Left side panel of an illustrated stone monument depicting the life of Buddha that was commisioned by Zhou Rongzu 周榮祖.
Date : Northern Qi (550–577).
Grid : 11×11.
---
Sui Dynasty Ceramic Go Board
河南安陽地區出土隋朝初年的白瓷圍棋盤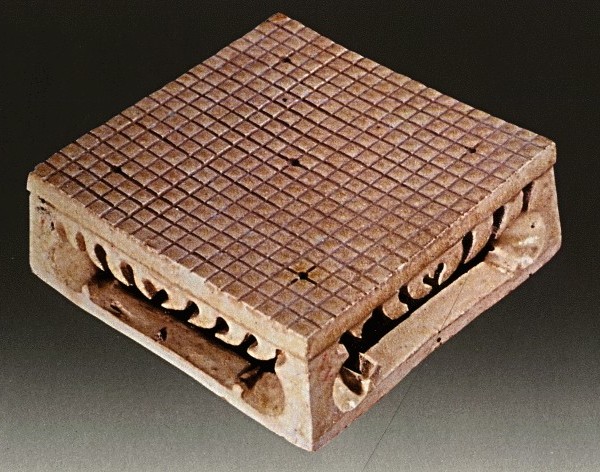 Source : Survey of Chinese Ceramics (Taibei, 1991) vol.2 page 171
Description : White ceramic Go board found near Anyang 安陽 in Henan province.
Date : Early Sui dynasty (581–618).
Size : 10.2 × 10.2 cm.
Grid : 19×19, with the five primary star points marked.
---
Tang Dynasty Go Board
重慶萬州區唐永徽五年駙馬冉仁才墓出土棋盤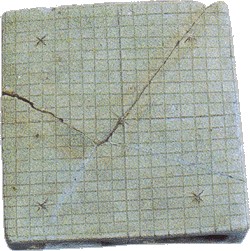 Source : 古代围棋图片
Description : Model Go board excavated from the tomb of Ran Rencai 冉仁才 at Wanzhou district 萬州區 in Chongqing.
Date : Tang dynasty (618–907) : 654.
Size : 11.0 × 11.0 cm.
Grid : 19×19, with the five primary star points marked.
---
Tang Dynasty Wooden Go Board
新疆阿斯塔那206號唐張雄夫婦合葬墓出土木圍棋盤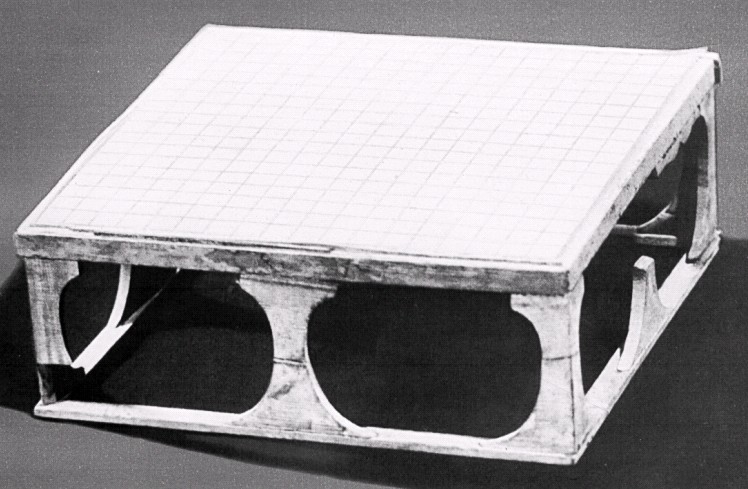 Source : Xinjiang Chutu Wenwu 新疆出土文物 (Beijing, 1975) plate 189
Description : Wooden Go board excavated in 1973 from the tomb of Zhang Xiong 張雄 (died 633) and his wife (died 688) (M206) at Astana 阿斯塔那 in Xinjiang (see Wen Wu 文物 1975.7).
Date : Tang dynasty (618–907) : 688.
Size :
Grid : 19×19.
---
Tang Dynasty Pottery Go Board
湖南岳陽桃花山4號唐墓出土陶圍棋盤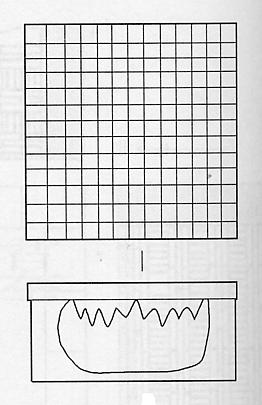 Source : Wen Wu 文物 2006.11 p.50
Description : Pottery model Go board excavated in 1994 from tomb M4 at Yueyang 岳陽 in Hunan province.
Date : Tang dynasty (618–907).
Size : 11.0 × 11.0 cm.
Grid : 14×14 !
---
Tang Dynasty Pottery Go Board
湖南湘陰唐墓出土陶圍棋盤
[No Image Available]
Source : Wen Wu 文物 1972.11 p.52
Description : Pottery model Go board excavated in 1971 from a tomb at Xiangyin 湘陰 in Hunan province.
Date : Tang dynasty (618–907).
Size : 8.0 × 8.0 cm.
Grid : 15×15.
---
Tang Dynasty Silk Painting of a Go Player
新疆阿斯塔那187號唐張禮臣墓出土絹畫屏風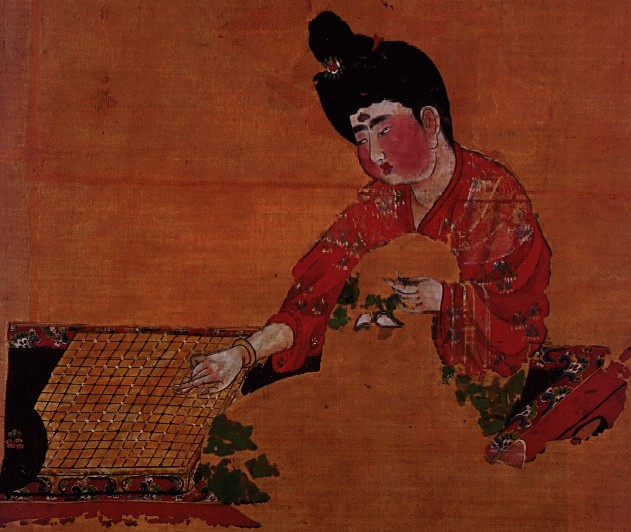 Source : Zhongguo Meishu Quanji : Huihuabian 中國美術全集‧繪畫編 (Beijing, 1984) vol.2 plate 9
Description : Portion of a silk screen excavated from the tomb of Zhang Lichen 張禮臣 (M187) at Astana 阿斯塔那 in Xinjiang.
Date : Tang dynasty (618–907).
Grid : 17×16. This is probably a badly-drawn representation of a 17 × 17 board (the artist seems to have run out of space on the righthand side, so that the 16th vertical line is just squeezed in, but there is no room for the 17th). (Board Layout)
---
Tang Dynasty Go Stones
西安市郊區出土白石圍棋子20枚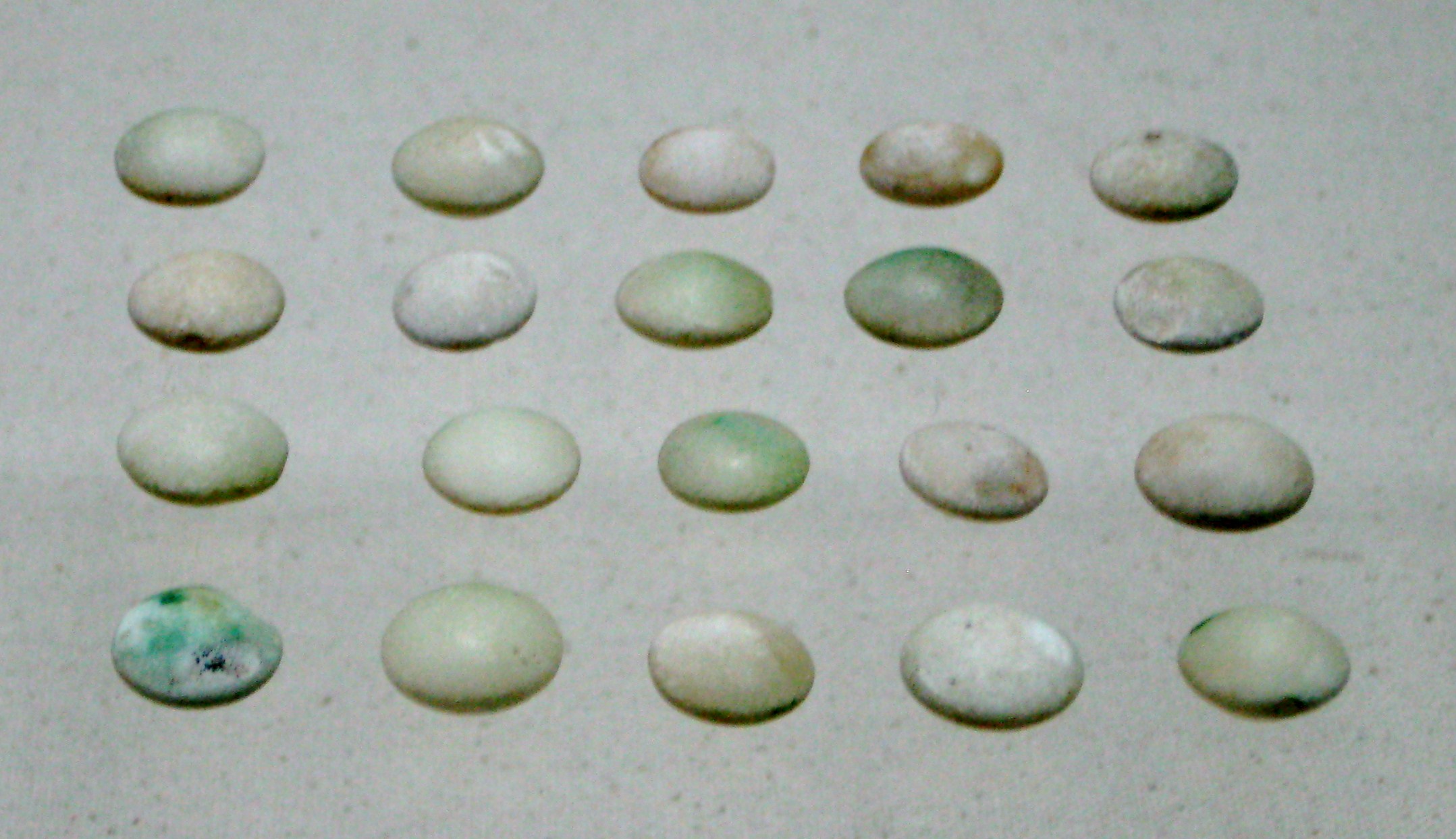 CC-BY-SA-3.0 by Andrew West
Description : Stone Go stones excavated from the outskirts of Xi'an in Shaanxi province.
Date : Tang dynasty (618–907).
Stones : 20 white stones.
---
Korean Brick Go Board
韓國慶尚北道慶州市芬皇寺出土圍棋盤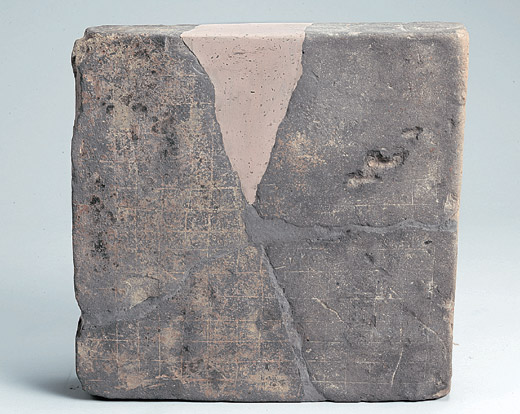 Source : netizenbonbu
Description : Brick Go board found in 2006 at the Bunhwangsa Temple in Gyeongju (the capital of the Silla kingdom) in Gyeongsangbuk-do province, South Korea. The board broke into three pieces on discovery, and one piece is missing.
Date : Unified Silla period (668–935).
Size : 43 × 42 cm.
Grid : 15×15.
---
Japanese Wooden Go Board
日本奈良正倉院藏唐朝紫檀木圍棋盤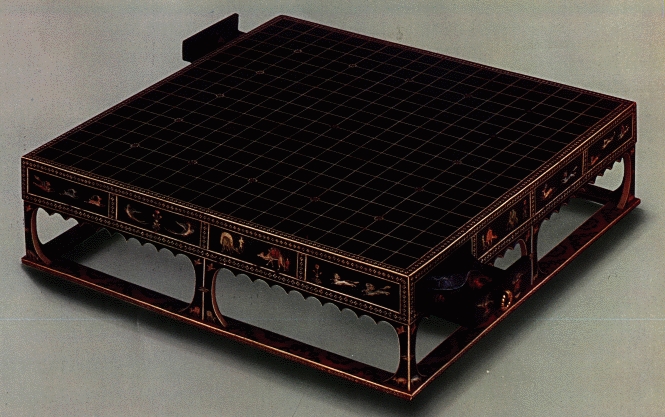 Source : Nihon Bijutsu Zenshū 日本美術全集 (Gakken, 1978) vol.5.2 plate 18
Description : Lacquered wooden Go board preserved at the Imperial Storehouse (Shōsōin 正倉院) at Nara in Japan.
Date : Believed to have been imported from Chang'an in China during the Tang dynasty (618–907).
Size :
Grid : 19×19.
---
Tibetan Stone Go Board
西藏墨竹工卡縣加瑪鄉村強巴米久林宮殿遺址出土石密芒棋盤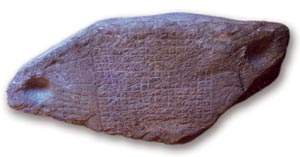 [Click on image for a different view of the board]
Description : Crude stone Go board found in 2000 during the renovation of a house near the ruins of the Byams pa mi 'gyur gling བྱམས་པ་མི་འགྱུར་གླིང palace, the reputed birthplace of King Songtsän Gampo (617?–649), at rGya ma རྒྱ་མ in Maizhokunggar county in Tibet (see Guntram Hazod's The Royal Residence Pho Brang Byams Pa Mi 'Gyur Gling and the story of Srong bTsan sGam Po's Birth in rGya Ma in Tibet, past and present (proceedings of the Ninth Seminar of the International Association for Tibetan Studies, Leiden 2000) (Leiden, 2002) pages 27–47). The stone was resting against the wall of the house, but is presumed to come from the palace, as that was the source of building material for the house.
Note : In 1909 A. H. Francke found some stone slabs on which were carved chessboard-like grids at the ruins of an ancient castle at Chini in the upper Sutlej Valley in India (see Antiquities of Indian Tibet vol.1 page 12). He presumed that these were used for playing Tibetan Go (mig mang མིག་མང), but unfortunately he did not take any photographs or make any rubbings of the stones, so we camnnot be sure. Nevertheless, these two finds do suggest that Go-playing may have been an important feature of aristocratic life in early Tibet.
Date : Uncertain, but Guntram Hazod suggests that "the stone slab might have come from a very old stratum or even the foundation period" (i.e. the period of King Songtsän Gampo).
Size : 144 × 56 cm. (including a 10 cm wide hollow at each end to hold the Go stones).
Grid : 17×17.
---
Five Dynasties Mural from Yulin Cave 32
榆林窟第32窟北壁弈棋圖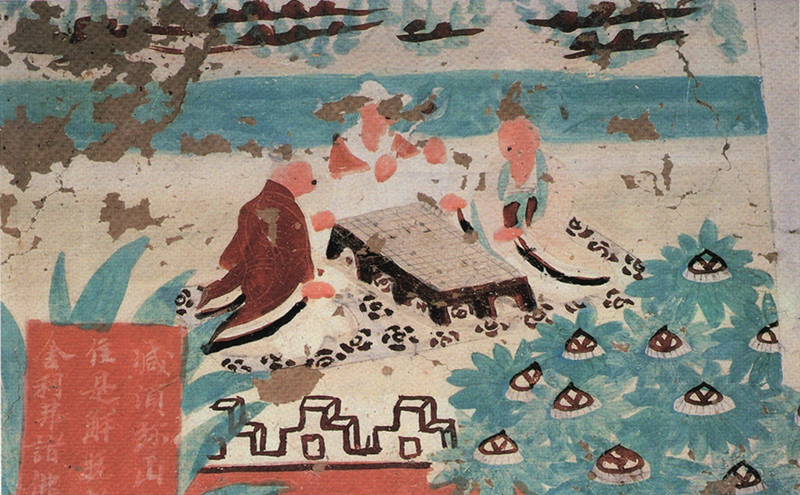 Source : 古代围棋图片
Description : Mural from Yulin Cave 32 (in Guazhou 瓜州 county Gansu) illustrating the Vimalakirti Sutra 維摩詰經 (see Wenwu Cankao Ziliao 文物參考資料 1956.10).
Date : Five Dynasties period (907–979).
---
Song Dynasty Reproduction of a Five Dynasties Painting by Zhou Wenju
五代周文矩畫的《重屏會棋圖》
Source : Zhongguo Meishu Quanji : Huihuabian 中國美術全集‧繪畫編 (Beijing, 1984) vol.2 plate 61
Description : Song dynasty reproduction of a painting of Go players on a screen by Zhou Wenju 周文矩.
Date : Five Dynasties period (907–979).
Grid : 19×19.
---
Liao Dynasty Wooden Go Board and Stones
內蒙古敖漢旗白塔子遼墓出土圍棋具
[No Image Available]
Description : Wooden Go board and set of Go stones excavated in 1976 from a tomb at Aohanqi 敖漢旗 in Inner Mongolia (see Kaogu 考古 1978.2).
Date : Liao dynasty (907–1125).
Size : 40 × 40 cm.
Grid : 13×13.
Stones : 79 black and 76 white stones; 14 short of the expected 169 stones (Board Layout).
---
Liao Dynasty Go Board and Stones
遼寧錦西市孤山遼墓出土圍棋具
[No Image Available]
Description : Wooden Go board and set of Go stones excavated in 1984 from the tomb of Xiao Xiaozhong 蕭孝忠 near Jinxi 錦西 in Liaoning province.
Date : Liao dynasty (907–1125).
Size :
Grid :
Stones : 75 black and white pottery stones (presumably for use with a 13×13 board).
---
Liao Dynasty Go Stones
遼寧省凌源縣溫家屯遼墓出土陶質圍棋子82枚
[No Image Available]
Description : Set of Go stones excavated in 1979 from a tomb at Lingyuan 凌源 in Liaoling province (see Liaohai Wenwu Xuekan 遼海文物學刊 1994.1).
Date : Liao dynasty (907–1125).
Stones : 82 black and white stones (presumably for use with a 13×13 board).
---
Liao Dynasty Go Stones
遼寧朝陽市遼墓出土瑪瑙圍棋子
[No Image Available]
Description : Set of Go stones excavated in 1966 (or 1968?) from a tomb at Chaoyang 朝陽 in Liaoning province.
Date : Liao dynasty (907–1125).
Stones : 186 black agate and 186 white agate stones.
---
Mural from a Liao Dynasty Tomb
河北宣化7號遼墓壁畫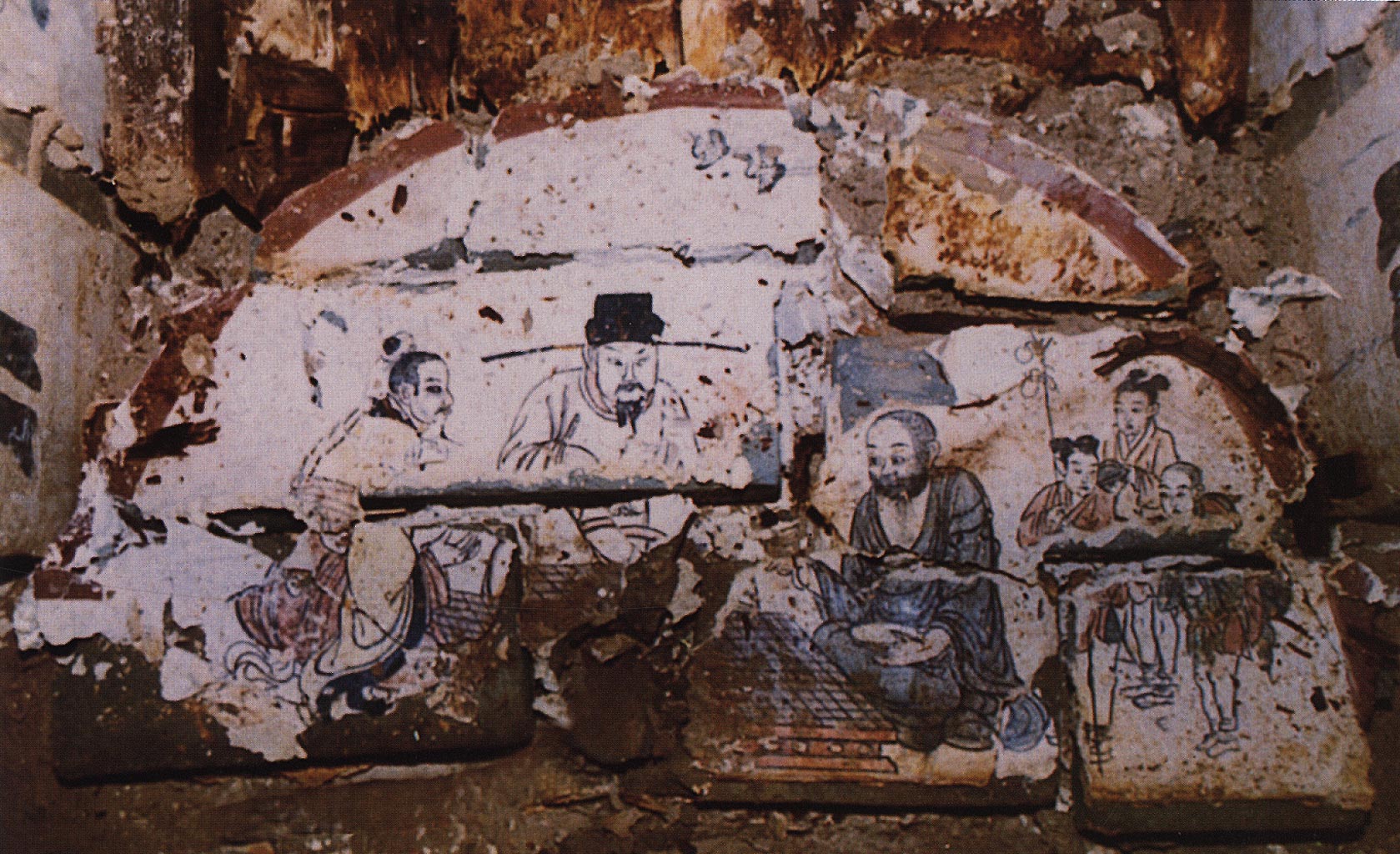 Source : Liao Mural Painting (Columbia University Art History & Archaeology Database) Item ID:24609
Description : Part of a mural in the tomb of Zhang Wenzao 張文藻 (d.1093) (M7) at Xuanhua 宣化 in Hebei province (see Wen Wu 文物 1996.9).
Date : Liao dynasty (907–1125) : 1093.
Grid : 13×13.
---
Silk Painting from a Liao Dynasty Tomb
遼寧法庫縣葉茂臺7號遼墓出土《深山會棋圖》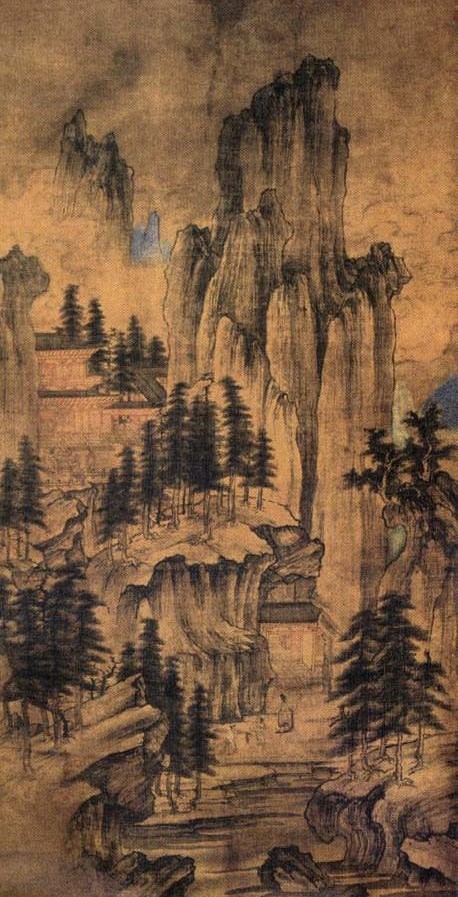 Source : 深山会棋图
Description : Silk painting from a Liao dynasty tomb at Faku 法庫 in Liaoning province. It shows a group of three people playing go. The motif of two go players and an observer derives from the story of a woodcutter who happens upon two immortals playing go deep in the mountains; the man is engrossed in the game, and when it is over and he goes back home hundreds of years have passed.
Date : Liao dynasty (907–1125).
---
Western Xia Brick Go Boards
拜寺溝西夏方塔出土磚圍棋盤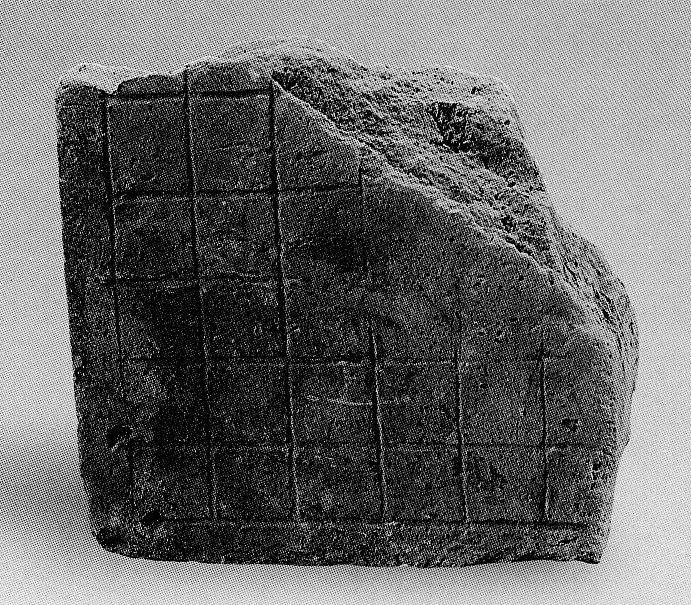 Source : Ningxia Institute of Cultural Relics and Archaeology, Bàisìgōu Xīxià Fāngtǎ 拜寺沟西夏方塔 [The Western Xia Square Pagoda at Baisigou] (Beijing: Wenwu Chubanshe, 2005) Plate XX no.3
Description : Three fragments (largest shown above) of brick Go boards discovered in the ruins of the Baisigou Square Pagoda, Helan County, Ningxia. One fragment is a corner with six grid lines in each direction; one fragment is unfinished, with no vertical grid lines on the right side.
Date : Western Xia (1038–1227).
Size : A) 21.3 × 22.0 × 7.0 cm; B) 18.0 × 10.0 × 5.0 cm.
Grid : Uncertain.
---
Western Xia Pottery Go Board Fragment and Ceramic Go Stones
西夏圍棋盤殘塊及圍棋子兩罐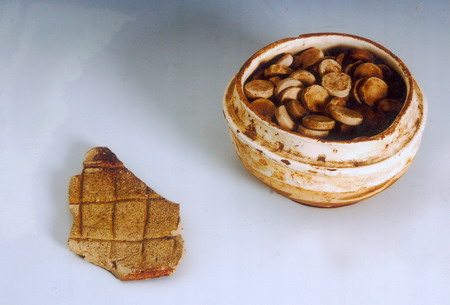 Source : 西夏瓷推开一扇西夏窗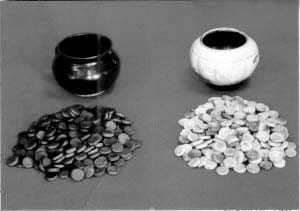 Source : 西夏围棋子
Description : Fragment of a pottery Go board, and a set of black and white ceramic Go stones in black and white ceramic bowls, These are in a private collection, and their source is unknown, although it can be reasonably surmised that they could only have come from a robbed tomb. A number of similar ceramic Go stones were discovered between 1983 and 1986 at the site of the Lingwu kiln 靈武窯 in Ningxia province.
Date : Supposedly Western Xia (1038–1227), but with no archaeological context this cannot be verified.
Grid : Uncertain, probably 19×19 from the number of stones.
Stones : Reportedly 200 black stones and 200 white stones, but not certain whether this is an approximate or an exact count.
---
Mural from a Jin Dynasty Tomb
陝西甘泉4號金墓壁畫
Source : Wenwu 文物 2009.7 page 38 fig.34
Description : Part of a mural in a tomb dated 1189 (M4) at Ganquan 甘泉 in Shaanxi province (see Wen Wu 文物 2009.7). This is one of a set of four murals representing the four scholarly arts (琴棋書畫), all featuring female figures.
Date : Jin dynasty (1115–1234) : 1189.
Grid : 17×17 (?).
---
Jin Dynasty Go Stones
金上京出土圍棋子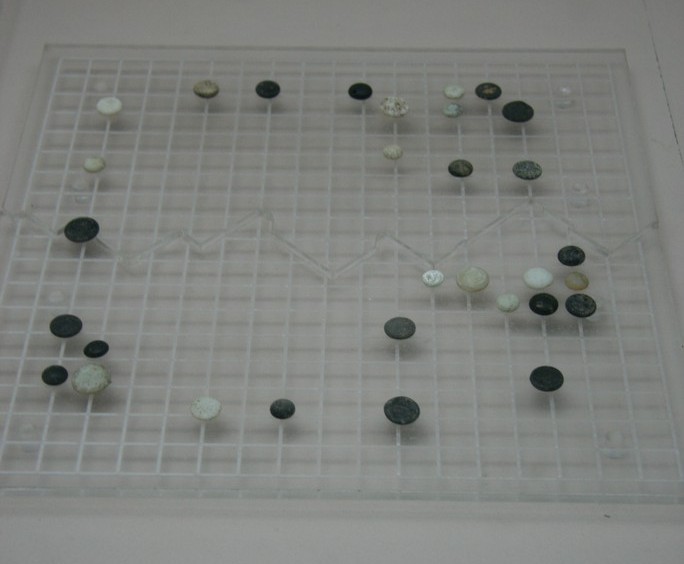 Source : 围棋子 金代
Description : Go stones excavated from the site of the first Jin dynasty capital (Shangjing 上京) at Acheng 阿城 in Heilongjiang province.
Date : Jin dynasty (1115–1234).
Stones : 18 black and 14 white Go stones of various sizes.
---
Jin Dynasty Stoneware Pillow
金大定十八年磁州窯瓷枕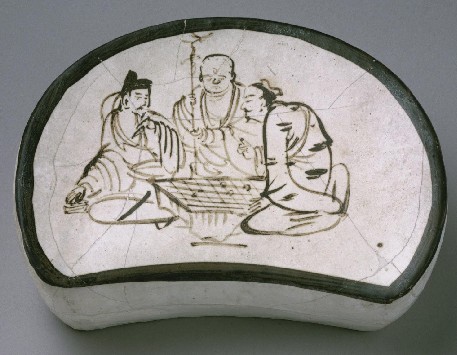 Source : Philadelphia Museum of Art 1957-26-1
Description : Cizhou ware stone pillow from the Jin dynasty.
Date : Jin dynasty (1115–1234) : 1178.
---
Southern Song Painting
《會昌九老圖》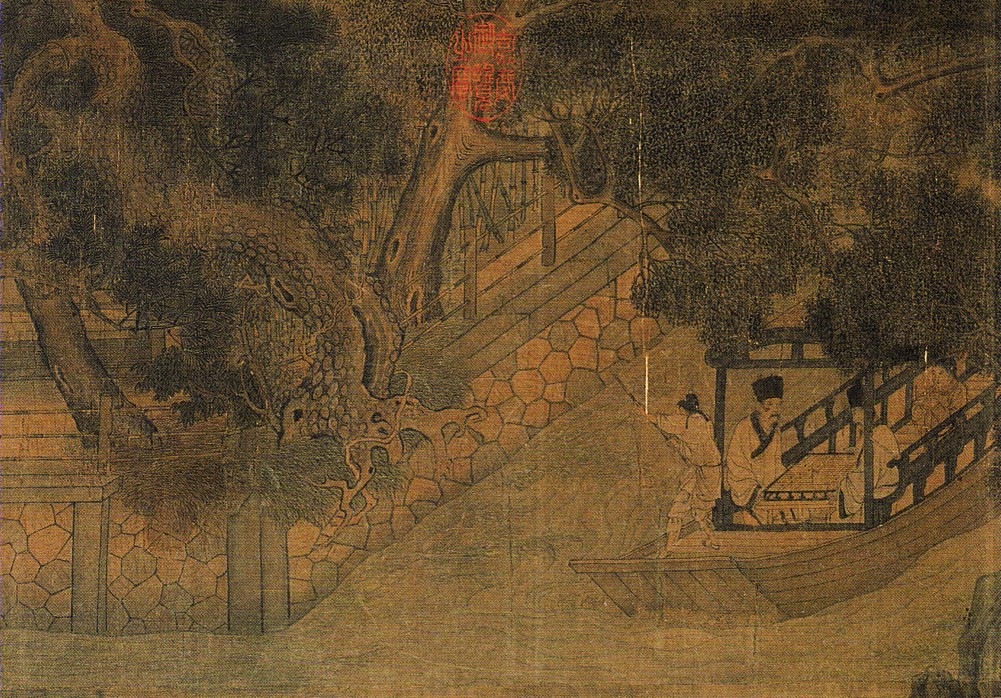 Source : Gugong Bowuyuan Cang Wenwu Zhenpin Quanji [Jin Tang Liang-Song Huihua 3] 故宮博物院藏文物珍品全集 [晉唐兩宋繪畫 3] (Beijing, 2008) pages 168–175
Description : Handscroll in the Palace Museum Beijing that depicts a gathering in Luoyang during the Huichang period (specifically the year 845), including two men playing Go on a boat.
Date : Southern Song (1127–1279).
Grid : 19×19.
---
Northern Song Mural from Dunhuang Cave 454
莫高窟第454窟東壁維摩詰經變之場景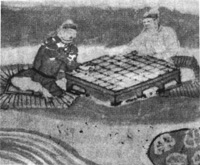 Source : 古代围棋图片
Description : Detail of a mural in Dunhuang Cave 454 illustrating the Vimalakirti Sutra 維摩詰經.
Date : Early Northern Song (960–1035).
---
Northern Song Go Stones
成都工地出土北宋圍棋子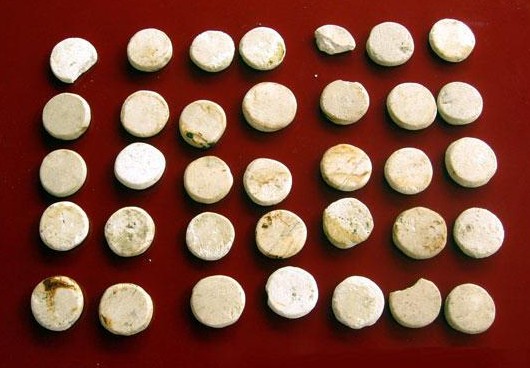 Source : 成都工地出土大量文物 發現千年圍棋子
Description : White Go stones discovered in 2009 in an ancient well at a construction site in Chengdu city in Sichuan province.
Date : Northern Song (960–1127).
Stones : About 30 white stones.
---
Yuan Dynasty Mural at the Lower Guangsheng Temple
山西省洪洞縣廣勝寺水神廟明應王殿壁畫
Source : Zhongguo Meishu Quanji : Huihuabian 中國美術全集‧繪畫編 (Beijing, 1984) vol.13 plate 83
Description : Detail of a mural at the Lower Guangsheng Temple 廣勝寺 in Hongdong 洪洞 county of Shanxi province (see Playing Go on a Chinese Chess Board).
Date : Yuan dynasty (1271–1368) : circa 1319–1324.
Grid : 9×12, apparently the board being used for playing Go is a non-standard Chinese Chess board (Board Layout
the history of Mahjong
Mahjong

| | |
| --- | --- |
| Players | 4 |
| Age range | 4 years and older |
| Setup time | 2–10 minutes |
| Playing time | Dependent on variation and/or house/tournament rules |
| Random chance | Yes |
| Skills required | Tactics, observation, memory |
Mahjong (Chinese: 麻將; pinyin: má jiàng) is a game that originated in China, commonly played by four players (with some three-player variations found in Korea and Japan). Mahjong is a game of skill, strategy and calculation and involves a certain degree of chance. In Asia, mahjong is also popularly played as a gambling game (though it may just as easily be played recreationally).
The game is played with a set of 152 tiles based on Chinese characters and symbols, although some regional variations use a different number of tiles. In most variations, each player begins by receiving thirteen tiles. In turn players draw and discard tiles until they complete a legal hand using the fourteenth drawn tile to form four groups (melds) and a pair (head). There are fairly standard rules about how a piece is drawn, stolen from another player (melded), the use of basic (numbered tiles) and honours (winds and dragons), the kinds of melds, and the order of dealing and play. However there are many regional variations which may vary these rules; in addition, the scoring system, the minimum hand necessary to win varies significantly based on the local rules being used.
 Name
The game was called 麻雀 (pinyin: má què), meaning sparrow in Chinese, which is still the name most commonly used in some southern Chinese dialects such as Cantonese and Min Nan, as well as in Japanese. However, most Mandarin-speaking Chinese now call the game má jiàng (麻將). In Northern Wu Chinese (Shanghainese and its relatives), it is pronounced as 麻將 [mu tsiaŋ], but in actuality, 麻將 is the diminutive form of 麻雀, written as 麻雀兒 [mu tsiaʔ ŋ], due to an erhua event. It is through the Wu Chinese pronunciation of 麻雀兒 that the diminutive form of 麻雀 in Northern Wu dialect became known as 麻將 in both Mandarin and Wu.
History
Mahjong in China
One of the myths of the origin of mahjong suggests that Confucius,[1] the Chinese philosopher, developed the game in about 500 BC. This assertion is likely to be apocryphal. According to this myth, the appearance of the game in the various Chinese states coincided with Confucius' travels at the time he was teaching his new doctrines. The three dragon (cardinal) tiles also agree with the three cardinal virtues bequeathed by Confucius. Hóng Zhōng (紅中
, red middle), Fā Cái (發財
, prosperity), and Bái Ban (白板
, white board) represent benevolence, sincerity, and filial piety, respectively.
The myth also claims that Confucius was fond of birds, which would explain the name "mahjong" (maque 麻雀 = sparrow). However, there is no evidence of mahjong's existence before the Taiping era in the 19th century, which eliminates Confucius as a likely inventor.
Many historians believe it was based on a Chinese card game called Mǎdiào (馬吊) (also known as Ma Tiae, hanging horse; or Yèzí [葉子], leaf) in the early Ming dynasty.[2] This game was played with 40 paper cards similar in appearance to the cards used in the game Ya Pei. These 40 cards are numbered 1 to 9 in four different suits, along with four extra flower cards. This is quite similar to the numbering of mahjong tiles today, although mahjong only has three suits and, in effect, uses four packs of Ya Pei cards.
There is still some debate about who created the game. One theory is that Chinese army officers serving during the Taiping Rebellion created the game to pass the time. Another theory is that a nobleman living in the Shanghai area created the game between 1870 and 1875. Others believe that two brothers from Níngpō created mahjong around 1850, from the earlier game of Mǎdiào.
This game was banned by the government of People's Republic of China when it took power in 1949.[3] The new Communist government forbade any gambling activities, which were regarded as symbols of capitalist corruption. After the Cultural Revolution, the game was revived, without gambling elements (see below), and the prohibition was revoked in 1985.[4] Today, it is a favorite pastime in China and other Chinese-speaking communities.
Mahjong in the Western world
In 1895, Stewart Culin, an American anthropologist, wrote a paper in which mahjong was mentioned. This is the first known written account of mahjong in any language other than Chinese. By 1910, there were written accounts in many languages, including French and Japanese.
The game was imported to the United States in the 1920s.[5] The first mahjong sets sold in the U.S. were sold by Abercrombie & Fitch starting in 1920.[6] It became a success in New York, and the owner of the company, Ezra Fitch, sent emissaries to Chinese villages to buy every set of mahjong they could find. Abercrombie & Fitch sold a total of 12,000 sets.[6]
Also in 1920, Joseph Park Babcock published his book Rules of Mah-Jongg, also known as the "red book". This was the earliest version of mahjong known in America. Babcock had learned mahjong while living in China. Babcock's rules simplified the game to make it easier for Americans to take up, and his version was common through the mahjong fad of the 1920s. Later, when the 1920s fad died out, many of Babcock's simplifications were abandoned.
The game has taken on a number of trademarked names, such as "Pung Chow" and the "Game of Thousand Intelligences". Mahjong nights in America often involved dressing and decorating rooms in Chinese style.[7] Several hit songs were also recorded during the mahjong fad, most notably "Since Ma is Playing Mah Jong" by Eddie Cantor.[8]
Many variants of mahjong developed during this period. By the 1930s, many revisions of the rules developed that were substantially different from Babcock's classical version (including some that were considered fundamentals in other variants, such as the notion of a standard hand). The most common form, which eventually became "American mahjong", was most popular among Jewish women.[9] Standardization came with the formation of the National Mah Jongg League (NMJL) in 1937, along with the first American mahjong rulebook, Maajh: The American Version of the Ancient Chinese Game.
While mahjong was accepted by U.S. players of all ethnic backgrounds during the Babcock era, many consider the modern American version a remake of a Jewish game,[10] as many American mahjong players are of Jewish descent. The NMJL was founded by Jewish players and is considered a Jewish organization. In addition, players usually use the American game as a family-friendly social activity, not as gambling. In 1986, the National Mah Jongg League conducted their first Mah Jongg Cruise Tournament, in conjuction with Mah Jongg Madness. In 2010, this large scale seagoing event hosts its 25th Silver Anniversary Cruise, with players from all over the States and Canada participating.
In recent years, a second organization has formed, the American Mah Jongg Association. The AMJA currently hosts tournaments all across North America, with their signature event being at the Trump Taj Mahal Casino Resort in Atlantic City, New Jersey.
British author Alan D. Millington revived the Chinese classical game of the 1920s with his book The Complete Book of Mah-jongg (1977). This handbook includes a formal rules set for the game. Many players in Western countries consider Millington's work authoritative.
Mahjong is not the first re-appearance of the Chinese game in the western world. It was also introduced in playing card form by an official of Britain's Consular Service named William Henry Wilkinson, author of "Chinese origin of playing cards," under the name of Khanhoo. This card game does not seem to have made much impression. The later success of mahjong came in part from the elegance of its mechanism as embodied in the domino-like pieces.
Current development
Today, the popularity and the characteristics of players of mahjong vary from country to country. There are also many governing bodies, which often host exhibition games and tournaments. It remains far more popular in Asia than in the West.
Mahjong, as of 2010, is the most popular table game in Japan.[11] In Japan, there is a traditional emphasis on gambling[dubious – discuss], and the typical player is male. Many devotees there believe the game is losing popularity and have taken efforts to revive it.[citation needed] There are several manga and anime (e.g. Saki and Akagi) devoted to dramatic and comic situations involving mahjong.[12] In addition, Japanese video arcades have introduced mahjong arcade machines that can be connected to others over the Internet. There are also video game versions of strip mahjong.
Mahjong culture is still deeply ingrained in the Chinese community. Sam Hui wrote Cantopop songs using mahjong as their themes, and Hong Kong movies have often included scenes of mahjong games. Many gambling movies have been filmed in Hong Kong, and a recent sub-genre is the mahjong movie.
Like other games, such as chess, Mastermind, checkers and card games, prolonged playing of mahjong may trigger epileptic seizures. The number of such cases, however, are rare. According to a 2007 study,[13][14] to date there are only 23 reported cases of mahjong-induced seizures in the English medical literature.
Studies by doctors have also shown in Hong Kong that the game is beneficial for individuals suffering from dementia or cognitive memory difficulties, leading to the development of mahjong therapy.[15]
As of 2008, there were approximately 7.6 million Mahjong players in Japan. An estimated 8,900 Mahjong parlors in Japan did ¥300 billion in sales that same year.[16]
 Type of game
Because of the solid form of the tiles, mahjong is sometimes classified as a domino game. However, it is much more similar to Western-style card games such as rummy.
Variants
There are many variations of mahjong. In many places, players often observe one version and are either unaware of other variations or claim that different versions are incorrect. Although many variations today differ only by scoring, there are several main varieties:
Descriptions
Chinese classical mahjong is the oldest variety of mahjong and was the version introduced to America in the 1920s under various names. It has a small, loyal following in the West, although few play it in Asia.
Hong Kong mahjong or Cantonese mahjong is possibly the most common form of mahjong, differing in minor scoring details from the Chinese Classical variety. It does not allow multiple players to win from a single discard.
Korean mahjong is unique in many ways and is an excellent version for beginners and three players. One suit is omitted completely (usually the Bamboo set) as well as the seasons. The scoring is simpler and the play is faster. No melded chows are allowed in and concealed hands are common. Riichi (much like its Japanese cousin) is an integral part of the game as well. Korean Rules
Sichuan mahjong is a growing variety, particularly in southern China, disallowing chi melds, and using only the suited tiles. It can be played very quickly.
Taiwanese mahjong is the variety prevalent in Taiwan and involves hands of 16 tiles (as opposed to the 13-tile hands in other versions), features bonuses for dealers and recurring dealerships, and allows multiple players to win from a single discard.
Japanese mahjong is a standardized form of mahjong in Japan and is also found prevalently in video games. In addition to scoring changes, the rules of rīchi (ready hand) and dora (bonus tiles) are unique highlights of this variant. Besides, there is a variation called sanma (三麻) based on this sort, which is modified for playing by three players, and its main differences from the standard one are that chī (Chow) is disallowed and the simple tiles (numbers two through eight) of one suit (usually characters) are removed.
Western classical mahjong is a descendant of the version of mahjong introduced by Babcock to America in the 1920s. Today, this term largely refers to the "Wright-Patterson" rules, used in the U.S. military, and other similar American-made variants that are closer to the Babcock rules.
American mahjong is a form of mahjong standardized by the National Mah Jongg League[17] and the American Mah-Jongg Association.[18] It uses joker tiles, the Charleston, plus melds of five or more tiles, and eschews the Chow and the notion of a standard hand. Purists claim that this makes American mahjong a separate game. In addition, the NMJL and AMJA variations, which differ by minor scoring differences, are commonly referred to as mahjongg or mah-jongg (with two Gs, often hyphenated).
Three player mahjong (or three-ka) is a simplified three-person mahjong that involves hands of 13 tiles (with a total of 84 tiles on the table) and may use jokers depending on the variation. Any rule set can be adapted for three players, however this is far more common and accepted in Japan, Korea, Malaysia and the Philippines. It usually eliminates one suit entirely or tiles 2-8 in one suit leaving only the terminals. It needs fewer people to start a game and the turnaround time of a game is short—hence, it is considered a fast game. In some versions there is a jackpot for winning in which whoever accumulates a point of 10 is considered to hit the jackpot or whoever scores three hidden hands first. The Malaysian and Korean versions drop one wind and may include a seat dragon. Korean Japanese three player variant.
Singaporean/Malaysian mahjong is a variant similar to the Cantonese mahjong played in Malaysia. Unique elements of Singaporean/Malaysian mahjong are the four animal tiles (cat, mouse, cockerel, and centipede) as well as certain alternatives in the scoring rules, which allow payouts midway through the game if certain conditions (such as a kang) are met.
Fujian mahjong, with a Dàidì joker 帶弟百搭.
Vietnamese mạt chược, with 16 different kinds of jokers.
Thai mahjong, includes the Vietnamese tiles with another eight for a total of 168 tiles.
Filipino mahjong, with the Window Joker.
Pussers bones is a fast-moving variant developed by sailors in the Royal Australian Navy. It uses a creative alternative vocabulary, such as Eddie, Sammy, Wally, and Normie, instead of East, South, West, and North.
Mahjong Solitaire involves stacking the Mahjong tiles in various configurations and then through an act of elimination the discovery of tile pairs and the removal of those pairs from the stack. The computer game was originally created by Brodie Lockard in 1981 on the PLATO system. Microsoft Corporation released a computerized Mahjong solitaire game called "Mahjong Titans" originally bundled with Windows Vista and later also with Windows 7. Previously Activision in 1986 released a computerized Mahjong solitaire game for the Amiga, Macintosh and Apple IIgs computers and also the Sega Master System entitled Shanghai.
Selected Variations Compared
Mahjong Variations

| Variation | Hong Kong | HK New | Classical | Japanese | Korean | Taiwan | Malaysia/ Singapore | Three player mahjong J/K | American |
| --- | --- | --- | --- | --- | --- | --- | --- | --- | --- |
| Flowers | Yes | Yes | Yes | Optional | Yes | Yes | Yes | Yes | Yes |
| Seasons | Yes | Yes | Yes | Uncommon | Yes | No | Yes | No | Yes |
| Bamboo | Yes | Yes | Yes | Yes | No or only terminals | Yes | Yes | No or only Terminals | Yes |
| Animals | No | No | No | No | No | No | Yes | No | Yes |
| Jokers | No | No | No | No | No | No | Yes | No | Yes |
| Scoring Base | Faan | Faan | Multipliers | Multipliers | Simple | Simple | Simple | Simple | American |
| Scoring | Winner | Winner | All | Winner | Winner | Winner | Winner | Winner | Winner |
| East Doubles | Yes | Yes | Yes | Yes | No | Yes | Yes | No | Yes |
| Sacred Discard | No | No | No | Yes | Yes | No | No | Yes | No |
| Melded Chows | Yes | Yes | Yes | Yes | No | Yes | Yes | No | Yes |
| Riichi | No | No | No | Yes | Yes | Yes | No | Yes | No |
| Minimum Points (in variations units) | 3f | 5f | 3f | 1y | 2p | 7/10t | 2u | 3+ | Varies |
 Mahjong competition rules
The top three in the World Mahjong Championship in Tokyo, October 2002. In the middle: world champion Mai Hatsune, from Japan
The first Open European Mahjong Championship, Nijmegen, the Netherlands, June 2005
The winners of the second Open European Mahjong Championship, Copenhagen, Denmark, June 2007. From left: Kohichi Oda (2), Martin Wedel Jacobsen (1), and Benjamin Boas (3)
In 1998, in the interest of dissociating illegal gambling from mahjong, the China State Sports Commission published a new set of rules, now generally referred to as Chinese Official rules or International Tournament rules (see Guobiao Majiang). The principles of the new, wholesome mahjong are: no gambling, no drinking, and no smoking. In international tournaments, players are often grouped in teams to emphasize that mahjong from now on is considered a sport.
The new rules are highly pattern-based. The rulebook contains 81 combinations, based on patterns and scoring elements popular in both classic and modern regional Chinese variants; some table practices of Japan have also been adopted. Points for flower tiles (each flower is worth one point) may not be added until the player has scored 8 points. The winner of a game receives the score from the player who discards the winning tile, plus 8 basic points from each player; in the case of zimo (self-drawn win), he receives the value of this round plus 8 points from all players.
The new rules were first used in an international tournament in Tokyo, where, in 2002, the first World Championship in Mahjong was organized by the Mahjong Museum, the Japan Mahjong Organizing Committee, and the city council of Ningbo, China. One hundred players participated, mainly from Japan and China, but also from Europe and the United States. Mai Hatsune, from Japan, became the first world champion. The following year saw the first annual China Majhong Championship, held in Hainan; the next two annual tournaments were held in Hong Kong and Beijing. Most players were Chinese, but players from other nations attended as well.
In 2005, the first Open European Mahjong Championship[19] was held in the Netherlands, with 108 players. The competition was won by Masato Chiba from Japan. The second European championship[20] in Copenhagen (2007) was attended by 136 players and won by Danish player Martin Wedel Jacobsen. The first Online European Mahjong Championship was held on the Mahjong Time server in 2007, with 64 players, and the winner was Juliani Leo, from the U.S., and the Best European Player was Gerda van Oorschot, from the Netherlands. The Third Open European Mahjong Championship 2009[21] at Baden/Vienna, Austria, was won by Japanese player Koji Idota, while runner-up Bo Lang from Switzerland became European Champion. There were 152 participants.
In 2006, the World Mahjong Organization (WMO) was founded in Beijing, China, with the cooperation of, amongst others, the Japan Mahjong Organizing Committee (JMOC) and the European Mahjong Association (EMA). This organization held its first World Championship in November 2007 in the Chinese town of Chengdu, attended by 144 participants from all over the world. It was won by Li Li, a Chinese student at Tsinghua University. The next World Championship will take place in Utrecht, the Netherlands, in Summer 2010.
Some other parties have also attempted to create international competition rules. The most noticeable one is the Zung Jung (中庸) Mahjong Scoring System, created by Hong Kong mahjong scholar Alan Kwan. Unlike the Chinese Official rules, Zung Jung is designed with simplicity as one of its design goals, and aims to be suitable for casual entertainment as well as tournament play. Zung Jung is adopted by the World Series of Mahjong event held annually in Macau. The World Series of Mahjong was last held in September 2008, in which 302 participants took part. The main event had a prize pool of US$1-million, which was won over three days of play by Alex Ho, from Hong Kong. He won US$500K from the prize pool and a mahjong necklace designed by Steela+Steelo.[22]
Western, or American-style Mah Jongg tournaments are held in virtually every state – the largest in Las Vegas, NV twice a year, and in Atlantic City, NJ, by Mah JOngg Madness; and the annual cruise hosted by the National Mah JOngg League and Mah Jongg Madness (MJM). MJM tournaments host between 150 and 500 participants at these larger events; and there are several smaller scale, but equally successful tournaments held annually by other hosts. Prize pools are based on the number participating. Rules are based on the National Mah Jongg League standard rules.
Equipment
Mahjong can be played either with a set of mahjong tiles or a set of mahjong playing cards (sometimes spelled "kards" to distinguish them from the list of standard hands used in American mahjong). Playing cards are often used when travelling, as they take up less space and are lighter than their tile counterparts; however, they are usually of a lower quality. In this article, "tile" will be used to denote both playing cards and tiles.
Many mahjong sets will also include a set of chips or bone tiles for scoring, as well as indicators denoting the dealer and the Prevailing Wind of the round. Some sets may also include racks to hold tiles or chips (although in many sets, the tiles are generally sufficiently thick so that they can stand on their own), with one of them being different to denote the dealer's rack.
Computer implementations of mahjong are also available. These allow you to play against computer opponents, or against human opponents on the Internet.
A set of mahjong tiles will usually differ from place to place. It usually has at least 136 tiles (most commonly 144), although sets originating from America or Japan will have more. Mahjong tiles are split into these categories: suits, honor, and flowers.
[edit] History
The suits of the tiles are money-based. In ancient China, the copper coins had a square hole in the center; people passed a rope through the holes to tie coins into strings. These strings are usually in groups of 100 coins, called diào (弔, or variant 吊), or 1000 coins, called guàn (貫). Mahjong's connection to the ancient Chinese currency system is consistent with its alleged derivation from the game named mǎ diào (馬弔).
In the mahjong suits, the coppers represent the coins, the ropes are actually strings of 100 coins, and the character myriad represents 10,000 coins or 100 strings. When a hand receives the maximum allowed winning of a round, it is called mǎn guàn (滿貫, literally, "full string of coins".)
[edit] Kinds of suits
There are four categories of suits of which the fourth "wild tiles" is used in only a few local variations (American and Singapore rules).
[edit] Simples
There are three different simple suits numbered 1-9. They are bamboo, coins and characters. They are universally used with the exception of limited or no bamboo in Korean rules and the removal of one suit or 2-8 of one suit in three player versions. Only simples can be used to make a chow.
[edit] Honours
There are two different honour suits. The winds of which there is north east south and west and the dragons of which there are Red, Green and White. Honours cannot form chows.
[edit] Bonus Tiles
There are up to 16 possible bonus tiles. In some variations they are discouraged such as riichi and other Japanese variations. The most commonly used ones are the flowers. The seasons are used in most Chinese variations (Hong Kong, Taiwanese, shanghai). In Singapore and Malaysian variations there is also an animal suit. There is a fourth suit which may be used made up of possible modes of transportation (i.e. rickshaw). It is rarely used. There are four of each suit and each tile is unique. They are numbered 1 to 4.
[edit] Wild Tiles
Also known as Joker tiles. They are used in only a few variations and do not constitute a suit but rather can be substituted for any desired tile based on the particular rules of the variations.
[edit] Individual Suits
Stones (alternatively wheels or circles): one through nine (🀙🀚🀛🀜🀝🀞🀟🀠🀡). Named as each tile consists of a number of circles. Each circle is said to represent can (筒, tóng) coins with a square hole in the middle.
Bamboos: one through nine (🀐🀑🀒🀓🀔🀕🀖🀗🀘). Named as each tile consists of a number of bamboo sticks. Each stick is said to represent a string (索, sǔo) that holds a hundred coins. Note that 1 Bamboo is an exception: it has a bird sitting on a bamboo, to prevent alteration.
Characters (alternatively numbers): one through nine (🀇🀈🀉🀊🀋🀌🀍🀎🀏). Named as each tile represents ten thousand (萬, wàn) coins, or one hundred strings of one hundred coins.
[edit] Honors
Wind tiles: 🀀 East Wind (東, dōng east), 🀁 South Wind (南, nán south), 🀂 West Wind (西, xī west), and 🀃 North Wind (北, běi North).
Dragon tiles: 🀄 Red Dragon, 🀅 Green Dragon, and 🀆 White Dragon. The term dragon tile is a Western convention introduced by Joseph Park Babcock in his 1920 book introducing mahjong to America. Originally, these tiles are said to have something to do with the Chinese Imperial Examination. The red tile ("中"榜, zhōngbǎng) means passing the examination to clear the way to officialdom. The green tile ("發"財, fācái, literally "get rich") means wealth. The white tile (白板, báibǎn, literally "clean slate") means freedom from corruption. It usually has a blue border to distinguish from replacement tiles and prevent alterations. In the original Chinese mahjong, these pieces are called jiàn (箭), which represents archery, and the red "中" represents a hit on the target. In ancient Chinese archery, one would put a red "中" to signify that the target was hit. White "白" represents failure, and green "發" means that one will release the draw.[citation needed]
[edit] Flowers
The last category, and typically optional components to a set of mahjong tiles, these tiles often contain artwork. Many people prefer not to use these tiles, because they make it easier to win and earn bonus points. For example, if you have no flowers in your hand, you get only one bonus point; but if you hold two flower tiles that match your seat/wind direction, you are entitled to two bonus points, since flowers correspond with wind directions. For example, holding a pair of the symbol 3 flower while you are in the West Wind position earns 2 bonus points for that hand, since the 3 flower is associated with the West Wind.
Japanese rule sets discourage the use of flowers and seasons. Korean rules and three player mahjong in the Korean/Japanese tradition use only flowers. In Singapore and Malaysia an extra set of bonus tiles of four animals are used. The rule set includes a unique function in that players who get two specific animals get a one time immediate payout from all players. In Taiwanese mahjong, getting all eight flowers and seasons constitutes an automatic win of the hand and specific payout from all players.
Four of the flower tiles represent the four noble plants of Confucian reckoning: 🀢 plum, 🀣 orchid, 🀥 chrysanthemum, and 🀤 bamboo.
The other four flower tiles (or season tiles) represent seasons: 🀦 spring, 🀧 summer, 🀨 autumn, and 🀩 winter.
The animal tiles used in Malaysia, Singapore and local variations are the animals. They represent the cat, mouse, cockerel and centipede.
[edit] Setting up the board
The following sequence is for setting up a standard Hong Kong (or Singapore) game. Casual or beginning players may wish to proceed directly to gameplay. Shuffling the tiles is needed before piling up.
[edit] Game Wind and Prevailing Wind
To determine the Player Game Wind (門風 or 自風), each player throws three dice (two in some variants) and the player with the highest total is chosen as the dealer or the banker (莊家). The dealer's Wind is East; the player to the right of the dealer has South wind; the next player to the right has West; and the fourth player has North (imagine a reversed map). Game Wind changes after every hand, unless the dealer wins. In some variations, the longer the dealer remains dealer, the higher the value of each hand.
The Prevailing Wind (場風) is always set to East when starting. It changes after the Game Wind has rotated around the board; that is, after each player has lost as the dealer. The dealer is always East. A full game of mahjong lasts until the Prevailing Wind has cycled through all four.
A mahjong set with Winds in play will usually include a separate Prevailing Wind marker (typically a die marked with the Wind characters in a holder) and a pointer that can be oriented towards the dealer to show Player Game Wind. In sets with racks, a rack may be marked differently to denote the dealer.
These Winds are also significant, as Winds are often associated with a member of a Flower tile group, typically 1 with East, 2 with South, 3 with West, and 4 with North.
[edit] Dealing tiles
All tiles are placed face down and shuffled. Each player then stacks a row of tiles two tiles high in front of him, the length of the row depending on the number of tiles in use:
136 tiles: 17 stacks for each player

Suits of dots, bamboos, and characters + winds + dragons

144 tiles: 18 stacks for each player
148 tiles: 19 stacks for dealer and player opposite, 18 for rest
152 tiles: 19 stacks for each player
The dealer throws three dice and sums up the total. Counting counterclockwise so that the dealer is 1, a player's row is chosen. Starting at the right edge, "sum" tiles are counted and shifted to the right.
The dealer now takes a block of four tiles to the left of the divide.
The player to the dealer's right takes four tiles to the left, and players (counterclockwise) take blocks of four tiles (clockwise) until all players have 12 tiles (for 13-tile variations) or 16 (for 16-tile variations). In 13-tile variations, each player then takes one more tile, to make a 13-tile hand. In practice, in order to speed up the dealing procedure, the dealer often takes one extra tile during the dealing procedure to start his turn.
The board is now ready, and new tiles will be taken from the wall where the dealing left off, proceeding clockwise. In some special cases discussed later, tiles are taken from the other end of the wall, commonly referred to as the back end of the wall. In some variations, a group of tiles at the back end, known as the dead wall, is reserved for this purpose instead. In such variations, the dead wall may be visually separated from the main wall, but it is not required.
Unless the dealer has already won (see below), the dealer then discards a tile. The dealing process with tiles is ritualized and complex to prevent cheating. Casual players, or players with mahjong playing cards, may wish to simply shuffle well and deal out the tiles with fewer ceremonial procedures.
[edit] Charleston
In the American variations, it is required that before each hand begins, a Charleston is enacted. In the first round, three tiles are passed to the player on one's right; in the next round, the tiles are passed to the player opposite, followed by three tiles passed to the left. If all players are in agreement, a second Charleston is performed; however, any player may decide to stop passing after the first Charleston is complete. The Charleston is followed by an optional pass to the player across of one, two, or three tiles. The Charleston, a distinctive feature of American mahjong, may have been borrowed from card games such as Hearts.
[edit] Gameplay
Each player is dealt either thirteen tiles (for 13-tile variations) or sixteen tiles (for 16-tile variations). If a player is dealt a hand of tiles that is determined to be a winning hand (known as a "heavenly win", 天胡), he or she may declare victory immediately before the game even begins. However, this scenario of victory occurs very rarely.
A turn involves a player's drawing a tile from the wall (or draw pile) and then placing it in his or her hand; the player then discards a tile onto the table. This signals the end of his or her turn, prompting the player to the right to make his or her move. Some variants encourage each player to loudly announce the name of the tile being discarded as a form of courtesy. Many variations require that discarded tiles be placed in an orderly fashion in front of the player, while some require that they be placed face down.
During gameplay, the number of tiles maintained by each player should always be the same; i.e., thirteen or sixteen. A player must discard a tile after picking up one. Failure to do so rules that player effectively out of winning, since a winning combination could never be built with one extra tile or fewer, but the player is obliged to continue until someone else wins.
A distinctive feature of West tiles: when three players drop the West tile, the fourth player will usually avoid discarding another West in the following turn. This is caused by a superstition that says, when all the players discard a West ("西") together, all players will die ("歸西") or be cursed with bad luck (see tetraphobia). During the West Prevailing Wind round, players will also avoid throwing in the One Circle during the first move, because One Circle sounds like "together" in Cantonese and Mandarin; thus, "to die all together" ("一同歸西"). In fact, because of this superstition, some variants require players to restart the game when all tiles of one kind of wind are discarded either in the first four turns, or during any four turns during the game.[citation needed]
When a player discards a tile, any other player may "call" or "bid" for it in order to complete a meld (a certain set of tiles) in his own hand. The disadvantage of doing this is that the player must now expose the completed meld to the other players, giving them an idea of what type of hand he or she is creating. This also creates an element of strategy as, in many variations, discarding a tile that allows another player to win the game requires the discarding player to lose points, or pay the winner more, in a game for money.
Most variants, with the notable exception of American mahjong, allow three types of melds. When a meld is declared through a discard, the player must state the type of meld to be declared and place the meld face up. (As for the Japanese variant, callings to make melds are different from the actual names of the types of melds, favoring the original Chinese names over the Japanese translation.) The player must then discard a tile, and play continues to the right. Because of this, turns may be skipped in the process.
Pong, or Pung (碰 pinyin pèng, Japanese: 刻子 kōtsu)—A Pong, or Pung, is a set of three identical tiles.
For example: ; ; ; .
In American mahjong, where it is possible to meld Flower tiles, a Pong may also refer to a meld of three of the four Flower tiles in a single group. American mahjong may also have hands requiring a knitted triplet—three tiles of identical rank but of different suits.
Kong (槓/杠 pinyin gàng, Japanese: 槓子 kantsu)—A Kong is a set of four identical tiles.
For example:; .
Because all other melds contain three tiles, a Kong must be immediately exposed when explicitly declared. If the fourth tile is formed from a discard, it is said to be an exposed Kong (明槓/明杠, pinyin míng gàng). If all four tiles were formed in the hand, it is said to be a concealed Kong (暗槓/暗杠, pinyin àn gàng). In some forms of play, the outer two tiles of a concealed Kong are flipped to indicate its concealed status. It is also possible to form an exposed Kong if the player has an exposed Pung and draws the fourth tile. In any case, a player must draw an extra tile from the back end of the wall, or from the dead wall, if it exists, and discard as normal. Play then continues to the right. Once a Kong is formed, it cannot be split up, i.e., to use one tile as part of a Chow, and thus, it may be advantageous not to immediately declare a Kong.
Sheung, or Chow (上, in some versions 吃 chi, Japanese: 順子 shuntsu)—A Sheung or Chow is a meld of three suited tiles in sequence.
For example: ; ; ; .
Unlike other melds, an exposed Sheung may only be declared off the discard of the player on the left. The only exception is when the player needs that tile to form a Sheung to win. In this case, a Sheung can be declared at any opponent's turn. American mahjong does not have a formal Sheung (Sheungs cannot be declared), but some hands may require that similar sequences be constructed in the hand. Some American variations may also have the knitted sequence, where the three tiles are of three different suits. Sequences of higher length are usually not permissible, unless it forms more than one meld.
Eye (將 jiàng, in some versions 眼 yǎn, Japanese: 対子 toitsu or 雀頭 jantō; also Pair)—The pair, while not a meld (and thus cannot be declared or formed with a discard, except if completing the pair completes the hand), is the final component to the standard hand. It consists of any two identical tiles.
For example, this hand uses two as the eyes.
American mahjongg hands may have tile constructions that are not melds, such as "NEWS" (having one of each Wind). As they are not melds, they cannot be formed off discards, and in some variations, cannot be constructed in part or in whole by Joker tiles. In the Chinese official (and several other) rulesets, there are further hands, such as Seven Pairs or Thirteen Orphans.
When two or more players call for a discarded tile, a player taking the tile to win the hand has precedence over all others, followed by Pong or Kong declarations, and lastly, Chows. In American mahjong, where it may be possible for two players needing the same tile for melds, the meld of a higher number of identical tiles takes precedence. If two or more players call for a meld of the same precedence (or to win), the player closest to the right wins out. In particular, if a call to win overrides a call to form a kong, such a move is called "robbing the Kong", and may give a scoring bonus. The game may be declared an abortive draw if two or more players call a tile for the win though, again depending on the variation.
There is generally an informal convention as to the amount of time allowed to make a call for a discarded tile before the next player takes their turn. In American mahjong, this "window of opportunity" is explicitly stated in the rules; whereas in other variants, it is generally considered that when the next player's turn starts, i.e., the tile leaves the wall, the opportunity has been lost.
[edit] Flowers
Flower tiles, when dealt or drawn, must be immediately replaced by a tile from the dead wall (or if no dead wall exists, the back end of the wall). With the exception of American mahjong, they are immediately exposed, placed in view on the table on front of the player's tiles. At the start of each round, where two or more players may have Flower tiles, Flower tiles are replaced starting with the dealer and moving to the right. Flower tiles may or may not have point value; in some variations, possession of all the Flower tiles wins the round regardless of the actual contents of the hand.
In American mahjong, Flower tiles are not instantly exposed and replaced, as they may be melded with other Flower tiles in the same group (in essence, they are treated as if they were another set of honor tiles) or be used as a requirement of a winning hand. Early versions of American mahjong used Flower tiles as Joker tiles.
[edit] Jokers
A feature of several variations of mahjong, most notably American variations, is the notion of some number of 🀪 Joker tiles. They may be used as a wild card: a substitute for any tile in a hand, or, in some variations, only tiles in melds. Another variation is that the Joker tile may not be used for melding. Depending on the variation, a player may replace a Joker tile that is part of an exposed meld belonging to any player with the tile it represents.
Rules governing discarding Joker tiles also exist; some variations permit the Joker tile to take on the identity of any tile, and others only permit the Joker tile to take on the identity of the previously discarded tile (or the absence of a tile, if it is the first discard).
Joker tiles may or may not have an impact on scoring, depending on the variation. Some special hands may require the use of Joker tiles (for example, to represent a "fifth tile" of a certain suited or honor tile).
In American mahjong, it is illegal to pass Jokers during the Charleston.
[edit] Winning
A player wins the round by creating a standard mahjong hand, which consists of a certain number of melds (namely, four for 13-tile variations and five for 16-tile variations) and a pair. If a player needs only one more tile to complete his winning hand and another player discards the tile he needs, he may claim it immediately, regardless of who discarded it or what part of his hand it completes.
Examples of winning hands (split into melds and pair for clarity):
In Western Classical variants, this is known as creating a mahjong, and the process of winning is called going mahjong.
Variations may have special nonstandard hands that a player can make (in this sense, American mahjong is a variant where only special hands exist).
Some variations may require that winning hands be of some point value. If a player declares victory but is discovered not to be holding a winning hand, he or she suffers a penalty of having to pay all the opposing players (called a zaa3 wu2, or zhà hú [詐胡] in Cantonese and Mandarin, respectively, or literally translated, "fake hand"). In some versions a player needs a very demanding winning hand to win such as 5 fan Hong Kong mahjong.
Winning is called hú (胡) in Chinese, and agari (アガリ) or hōra (和了) in Japanese. If the player wins by drawing a tile from a wall during his turn, a special name is given to this type of win in Chinese and Japanese: zìmō (自摸) in Chinese and tsumo (自摸, ツモ) in Japanese, while when the player wins by taking a tile cast off by another player, in Japanese it is called ron (栄, ロン).
[edit] Ready hands
When a hand is one tile short of winning (for example:
, waiting for:
,
, or
, as
can be eyes), the hand is said to be a ready hand (Traditional Chinese: 聽牌; Simplified Chinese: 听牌; Japanese: tenpai [聴牌]), or more figuratively, "on the pot". The player holding a ready hand is said to be waiting for certain tiles. It is common to be waiting for two or three tiles, and some variations award points for a hand that is waiting for one tile. In 13-tile mahjong, the largest number of tiles for which a player can wait is 13 (the thirteen wonders, or thirteen orphans, a nonstandard special hand). Ready hands must be declared in some variations of mahjong, while other variations prohibit the same.
Some variations of mahjong, most notably Japanese and Korean ones, allow a player to declare rīchi (立直; sometimes known as reach, as it is phonetically similar). A declaration of rīchi is a promise that any tile drawn by the player is immediately discarded unless it constitutes a win. Standard requirements for rīchi are that the hand be closed or have no melds declared (other than a concealed kong) and that players already have points for declaration of rīchi. A player who declares rīchi and wins usually receives a point bonus for their hand directly, and a player who won with rīchi also has the advantage to open the inner dora (ドラ, from "dra"gon) which leads to higher possibilities to match such a card, thus has more chance to grant additional bonus. However, a player who declares rīchi and loses is usually penalized in some fashion. Declaring a nonexistent rīchi is also penalized in some way.
In some variations, a situation in which all four players declare a rīchi is an automatic drawn game, as it reduces the game down to pure luck, i.e., who gets their needed tile first.
If only the dead wall remains (or if no dead wall exists and the wall is depleted) and no one has won, the round is drawn (流局 liú jú, 黃莊 huáng zhuāng, Japanese ryūkyoku), or "goulashed". A new round begins, and depending on the variant, the Game Wind may change. For example, in most playing circles in Singapore, if there is at least one Kong when the round is a draw, the following player of the dealer becomes the next dealer; otherwise, the dealer remains dealer.
Japanese mahjong has a special rule called sanchahō (三家和), which is, if three players claim the same discard in order to win, the round is drawn. One reason for this is that there are cases in which bars of 1,000 points for declaring rīchi cannot be divided by three. The rule is treated the same as "abortive draws".
[edit] Abortive draws
In Japanese mahjong, rules allow abortive draws to be declared while tiles are still available. They can be declared under the following conditions:
九種么九牌倒牌 (kyūshu yaochūhai tōhai): On a player's first turn when no meld has been declared yet, if a player has nine different terminal or honor tiles, the player may declare the round to be drawn (for example, , but could also go for the nonstandard thirteen wonders hand as well).
四風子連打 (sūfontsu renda): On the first turn without any meld declarations, if all four players discard the same Wind tile, the round is drawn.
四家立直 (sūcha rīchi): If all four players declare rīchi, the round is drawn.
四槓算了 (sūkan sanra): The round is drawn when the fourth Kong is declared, unless all four Kongs were declared by a single player. Still, the round is drawn when another player declares a fifth Kong.
[edit] Turns and rounds
If the dealer wins the game, he will remain the dealer. Otherwise, the player to the right becomes dealer, and that player's Wind becomes the Game Wind, in the sequence East-South-West-North.
After the Wind returns to East (i.e., each player has been the dealer), a round is complete and the Prevailing Wind will change, again in the sequence East-South-West-North. A full game of mahjong ends after when the North Prevailing Wind round is over. It is often regarded as an unlucky act to stop the gameplay at the West round, as the Chinese word for West (西) has a similar sound to the word for death (死), and also the after-world in Buddhism/Taoism is refereed as the blissful western world.
However, the Japanese variation differs in that the game starts on the East round, where a special table Wind is assigned to all games in that round. The dealer is also always considered East seat, so when the dealership passes to the next player, it reassigns all the seat Winds to the next player, although nobody actually moves around. After every player has been East at least once, the East round is over and the South round begins. Play usually ends after the South round; however, if none of the players has more than a certain amount, usually 30,000, then play will continue to the West, and possibly even to the North round.
The Korean variation is similar to the Japanese one, though east paying double is optional. In some three player versions (three player versions not being frowned upon in Korea) two North tiles are removed, meaning it can only be used as a pair. This leaves three rounds of three games. This is often doubled to last 18 games, which can be played surprisingly fast in a three player game.
[edit] Scoring
Main article: Scoring in mahjong
Scoring in mahjong involves points, with a monetary value for points agreed upon by players. Although in many variations scoreless hands are possible, many require that hands be of some point value in order to win the round.
While the basic gameplay is more or less the same throughout mahjong, the greatest divergence between variations lies in the scoring systems. Like the gameplay, there is a generalized system of scoring, based on the method of winning and the winning hand, from which Chinese and Japanese (among notable systems) base their roots. American mahjong generally has greatly divergent scoring rules, as well as greatly divergent gameplay rules.
Because of the large differences between the various systems of scoring (especially for Chinese variants), groups of players will often agree on particular scoring rules before a game. As with gameplay, many attempts have been made to create an international standard of scoring, but most are not widely accepted.
Points (terminology of which differs from variation to variation) are obtained by matching the winning hand and the winning condition with a specific set of criteria, with different criteria scoring different values. Some of these criteria may be subsets of other criteria (for example, having a meld of one Dragon versus having a meld of all of them), and in these cases, only the most general criterion is scored. The points obtained may be translated into scores for each player using some (typically exponential) functions. When gambling with mahjong, these scores are typically directly translated into sums of money. Some criteria may be also in terms of both points and score.
[edit] Mahjong in Unicode
The Unicode range for mahjong is U+1F000 .. U+1F02F. Grey areas indicate non-assigned code points.
Mahjong Tiles
Unicode.org chart (PDF)
 
0
1
2
3
4
5
6
7
8
9
A
B
C
D
E
F
U+1f00x
🀀
🀁
🀂
🀃
🀄
🀅
🀆
🀇
🀈
🀉
🀊
🀋
🀌
🀍
🀎
🀏
U+1f01x
🀐
🀑
🀒
🀓
🀔
🀕
🀖
🀗
🀘
🀙
🀚
🀛
🀜
🀝
🀞
🀟
U+1f02x
🀠
🀡
🀢
🀣
🀤
🀥
🀦
🀧
🀨
🀩
🀪
🀫
 
 
 
 
[edit] See also
Wikimedia Commons has media related to: mahjong
[edit] Footnotes
Further reading
Historical research
Culin, Stewart, 'The Game of Ma-Jong, its Origin and Significance'. In: Brooklyn Museum Quarterly, Brooklyn, NY, Vol. XI, 1924, p. 153-168. Also found at;
http://www.gamesmuseum.uwaterloo.ca/Archives/Culin/Majong1924/index.html
Depaulis, Thierry, 'Embarrassing Tiles: Mahjong and the Taipings'. In: The Playing-card, Vol. 35, No. 3, 2007, pp. 148 – 153.
Ebashi, Takashi, 'Proto Mahjong. Mahjong Tiles in the 19th Century'. In: Mahjong Museum Report, Vol. 5, No.2, Issue 9, April, 2005, pp. 14 – 17 (in Japanese).
Lo, Andrew, 'China's Passion for Pai: Playing Cards, Dominoes, and Mahjong'. In: Asian Games: The Art of Contest, Colin Mackenzie and Irving Finkel, eds. Asia Society. 2004. pp. 217–231. ISBN 0-87848-099-4
Stanwick, Michael, 'Mahjong(g) Before Mahjong(g): Part 1'. In: The Playing-card, Vol. 32, No. 4, 2004, pp. 153–162.
Stanwick, michael, 'Mahjong(g) Before Mahjong(g): Part 2'. In: The Playing-card, Vol. 32, No. 5, 2004, pp. 206–215.
Stanwick, Michael, 'Mahjong(g), Before and After Mahjong(g): Part 1'. In: The Playing-card, Vol. 34, No. 4, 2006, pp. 259–268.
Stanwick, Michael, 'Mahjong(g), Before and After Mahjong(g): Part 2'. In: The Playing-card, Vol. 35, No. 1, 2006, pp. 27–39.
Stanwick, Michael and Xu, Hongbing, 'Flowers nad Kings: A Hypothesis of their Function in Early Ma Que'. In: The Playing-card, Vol. 37, No. 1, 2008, pp. 29–40.
Wilkinson, William H.,(1890): Published in 1901 as pp 184–194 of Catalogue of the Collection of Playing Cards Bequeathed to the Trustees of the British Museum, F. M. O'Donoghue.
Wilkinson, William H.,(1893): Published in Culin, Games of the Orient, Tuttle, 1958. First published under the title Korean Games, with Notes on the Corresponding Games of China and Japan, University of Pennsylvania, 1895.
Wilkinson, William H., 'Chinese Origin of Playing Cards', in The American Anthropologist, Volume VIII, 1895, pp. 61–78. Also found at;
http://www.gamesmuseum.uwaterloo.ca/Archives/Wilkinson/Wilkinson.html
Chinese classical
Babcock, Joseph Park, Babcock's Rules for Mah-jongg. Mah-jongg Sales Company of America: 1923.
Babcock, Smith, Hartman, Work, and Foster, The American Code Of Laws For Mah-Jongg. Standardization Committee: 1924.
Millington, A.D., Complete Book of Mah Jong. Weidenfeld & Nicolson: 1993. ISBN 0-297-81340-4.
Chinese official
Others
Lo, Amy. The Book of Mah jong: An Illustrated Guide. Tuttle Publishing: 2001. ISBN 0-8048-3302-8.
Oxfeld, Ellen, Blood, Sweat, and Mahjong: Family and Enterprise in an Overseas Chinese Community. Cornell University Press: 1993. ISBN 0-8014-9908-9.
Pritchard, David B.,Teach Yourself mahjong. McGraw-Hill/Contemporary: 2001. ISBN 0-658-02147-8.
Sloper, Tom., Mah-Jongg: Game of the Orient. Self-published: n.d.
Wright Patterson Mah Jongg Group, Mah Jongg; Wright-Patterson Rules. Wright Patterson Mah Jongg Group: 1963.
External links
THE END@COPYRIGHT Dr Iwan Suwandy 2010