This Is The Sample Of Dr Iwan E-Book In CD-ROM
The Euro world War II History Collections
Part 28 th-  September 1939
(continued)
Created By
Dr Iwan suwandy,MHA
Private Limited E-book In CD-Rom edition
Special for Senior Collectors
Copyright@2013
 September 1939
28 September 1939
In Poland… On of the last centers of Polish resistance,
the fortress of Modlin, surrenders to the Germans after an 18-day siege.
The 10 Polish divisions have been encircled
in the city of Modlin,
and the area of Kutno,
since September 10th.
In Moscow…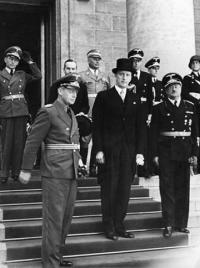 Talks between German foreign minister Ribbentrop
and Stalin continue.
Meanwhile, a Soviet-Estonian Pact is signed,
giving the USSR the use of bases in Estonia. This pact is the first in a series designed to ensure Soviet control of the Baltic.
In the United States…
The Foreign Relations Committee decides to submit the Neutrality Bill to the US Senate.
In London…
The British Admiralty declares that "no British ship has been damaged nor any casualties incurred from German aircraft." The statement is in response to German radio reports of recent successes against British warships in the North Sea.
28th : German-Soviet Boundary and Friendship Treaty is signed
by Molotov and Ribbentrop.
The secret protocol specifies the details of partition of Poland originally defined in Molotov-Ribbentrop Pact (August 23, 1939) and adds Lithuania to the Soviet Union sphere of interest.
28th :
The remaining Polish army and militia in the centre of Warsaw capitulate to the Germans.
28th : Soviet troops mass by the Latvian border.
Latvian
air space violated.
28th :
Estonia signs a 10-year Mutual Assistance Pact with the Soviet Union, which allows
the Soviets to have 30 000-men military bases in Estonia.
As a gift in return Stalin promises
to respect Estonian independence
To Be Continued
The Complete Info In CD-ROM Exist,to get it please subscribed via comment with upload your personal identiry info same as the ID Card