The Euro world War II History Collections
Part October  1939
(continued)
Created By
Dr Iwan suwandy,MHA
Private Limited E-book In CD-Rom edition
Special for Senior Collectors
Copyright@2013
 Octoner  1939
 October,1st.1939

In Poland…
German troops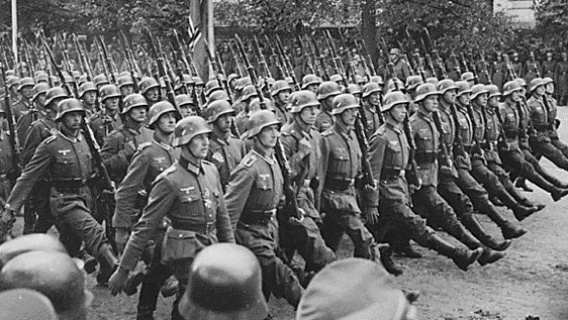 enter Warsaw
and begin disarming the Polish garrison (estimated to number 100,000 officers and men).
admiral Unrug (R) and admiral Schmundt (L) 1st October 1939
Polish garrison, commanded by Admiral Unrug, on the Hela Peninsula surrenders after a gallant fight. As well as land attacks they have endured a considerable naval bombardment.
In France… Polish cryptologists arrive with a cargo of two Enigma machines.
 Enigma encoding machines.
In London…
The first news of the German pocket-battleships,
Graf Spee
and Deutschland, reaches the British Admiralty.
In Britain…
Winston Churchill makes his first radio broadcast of the war, saying the Soviet Union has "pursued a policy of cold self-interest" in Poland. He adds that "we could have wished that the Russian armies should be standing on their present line as the friends and allies of Poland instead of invaders. But that the Russian armies should stand on this line was clearly necessary for the safety of Russia against the Nazi menace."
To Be Continued